A choice of a diagonal or a french bed ( standard size double bed)
Single Axle
Large pop-top with 4 vents
External fold out kitchen with a stainless steel work top
220 volt fridge and separate freezer
Keyed alike door locks
Crockery (catering for 3 persons)
Double gas cooker with a 3 kg gas bottle.
Roll out awning with external storage bag
Each Camperi caravan is hand crafted and can be customised to meet individual requirements
(within the confines of the existing chassis and body shape).
The A-frame allows for modification to include gas bottle holders, spare wheel and fuel tank.
Full tent for extended stays
Sides, front and draught skirt for standard awning
12 Volt refrigeration systems with related charging and battery systems which can include solar power
Single or double doors
Optional 100 liter fresh water tank with high pressure pump
Geyser operating off gas or off 220 volts
Drawers and/or sliding drawers
Material options for curtains (curtains can also be made up from supplied material)
Spare wheel with different storage locations
Alloy rims
Mud flaps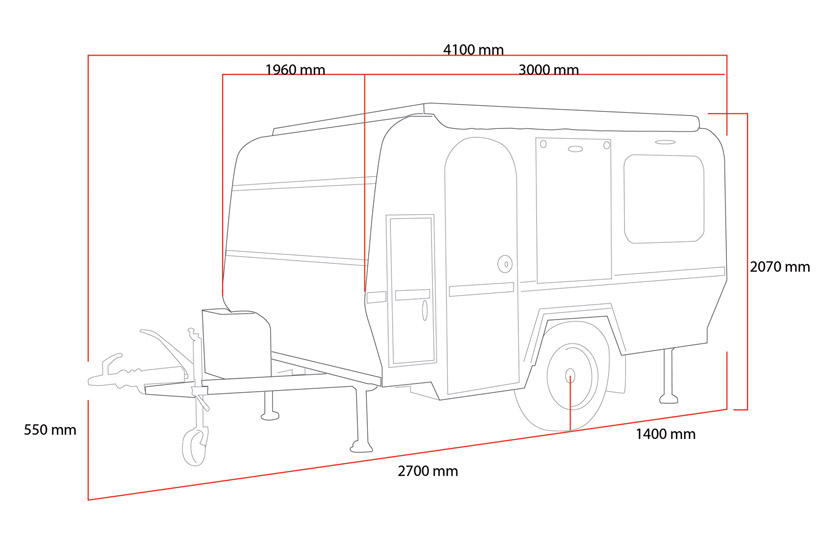 Overall length - 4100mm
Caravan length - 3000mm
Overall width - 1960mm
Wheelbase/track - 1660mm
Outside height (pop – top closed) - 2040mm
Weight from - 830 Kg
Tyre size - 215 x 15
Overall length - 4600mm
Caravan length - 3500mm
Overall width - 1960mm
Wheelbase/track - 1660mm
Outside height (pop – top closed) - 2040mm
Weight from - 850 Kg
Tyre size - 215 x 15
- Download Camperi A Layout



- Download Camperi B Layout



- Download Camperi XL A Layout



- Download Camperi XL B Layout



- Download Camperi XL C Layout